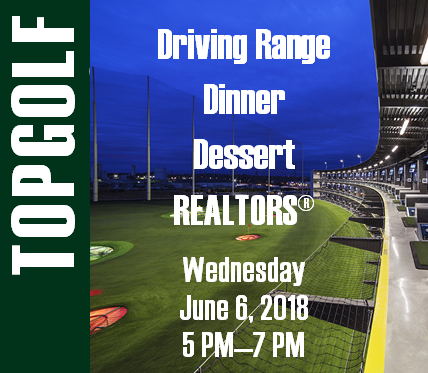 Come out for a fun night at Topgolf! Play games and enjoy dinner while you support this RPAC fundraiser. Registration is open to everyone.

Topgolf is a sports entertainment complex that features an inclusive, high-tech driving range that everyone can enjoy. Play in climate-controlled hitting bays and track your golf ball as you play one of the many games offered.

With an impressive food and drink menu, HDTVs to watch the big game, and a music selection that will make every visit feel like a party, Topgolf has an energetic hum you can feel right when you walk through the door.

Date
Wednesday, June 6
5 PM - 7 PM

Location
Topgolf Edison
1013 U.S. Route 1
Edison, NJ 08817

Registration Fee
$60 RPAC Contribution
Cost Includes: dinner, gameplay, lifetime membership card

-- If you have any questions or require special assistance, please contact events@metrocentrerealtors.com --

* Contributions to RPAC are not deductible for federal income tax purposes. Contributions are voluntary and are used for political purposes. The amounts indicated are merely guidelines and you may contribute more or less than the suggested amounts provided your contribution is within applicable contribution limits. The National Association of REALTORS® and its state and local associations will not favor or disadvantage any member because of the amount contributed or a decision not to contribute. You may refuse to contribute without reprisal. Unless otherwise required by applicable law, any request for the refund of a contribution must be made within two (2) business days of the date on which you authorize RPAC to charge you for said contribution. Your contribution is split between National RPAC and the State PAC in your state. Contact your State Association or PAC for information about the percentages of your contribution provided to National RPAC and to the State PAC. The National RPAC portion is used to support federal candidates and is charged against your limits under 52 U.S.C. 30116.