MCAR REALTOR

®

New Member Orientation Course Requirement

- only online
It is a requirement for new members of MCAR to complete the REALTOR® New Member Orientation Course within 14 days of becoming a member. MCAR members are provided a code in an email to save on the $10 charge.

To access the REALTOR® Orientation administered by Real Estate Learning, click on the following link:
http://learninglibrary.com/RellCatalog/p-2482-middlesex-county-association-of-realtors-new-member-orientation-course.aspx

To add the course to your account, click on the Add to Cart button, register a new account, go to the shopping cart, add the code in the Coupon Code field to save the $10. Follow the steps to finish the purchase. Then launch it to begin the 2 hour orientation.
For more information, contact MCAR at 732.442.3400.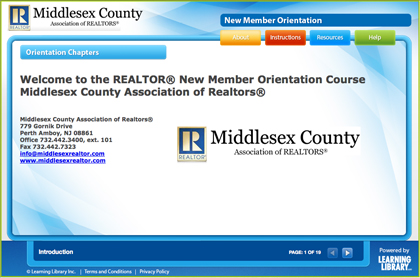 NOTE: This course is unrelated to the in-person orientation taken with the Central Jersey MLS.